Ever since I was in 4th grade my dad ran a music store. He played trumpet, some upright bass, and some piano. Even before that, we had a piano as long as I can remember. So it's no surprise that I have had a long history in the music industry. Believe it or not, I started playing keyboards professionally in bars in Storm Lake, IA when I was a freshman in high school. That started a career and I ended up playing multi-keyboards for rock and show bands all over the country for almost 20 years. I played in a number of bands throughout my high school years in Storm Lake. After high school I attended the University of South Dakota as a music major.

But Rock 'n Roll was in my blood so I quit college after one year and went on the road to Kansas to join "The Blue Things" which after a falling out with our booking agency, became the Zero Ted Band.. After playing only the music I loved to play for
several more years, I needed to finally make some money. So I started playing the hotel circuit in such metropolises as somewhere in Kansas, lot's of unknown places in Nebraska, Iowa, and Timbuktu. This went on for many years and I actually enjoyed it very much. At that point I felt that I wanted to do this for the rest of my life. There is a certain freedom of having no real roots and meeting a completely new set of friends every week or two. The beer and whiskey were always flowing and the weed, ever-present. I met my share of female "friends" as well. While not having a whole lot of money, I felt that, for the most part, I had everything I needed. Life was good and the bands and venues I played got better and better.

I was now playing in show bands working in the southern U.S for the winter months and sharing a lease at a club in Arnolds Park Iowa where the band played for the entire summer. While playing with the Upson Downs (show band) at the Union Plaza in Las Vegas, I got a call from a musician friend asking if I wanted to join a band from the Minneapolis/St. Paul area that was playing in Los Angeles at the time. I took that gig with a very good band called "Hot City Brass". Then we went back to the Twin Cities, and promptly broke up! This was in 1980 and since that time I've called the Twin Cities my home. I played with a number of working bands in the greater Twin Cities area for over 4 years. In 1985 I realized I had tinnitus and hyperacusis and that loud sounds were starting to be painful to experience. After trying the technology of the day, which was basically stuffing something in my ears to reduce the volume somewhat, I had to quit. The volume was just driving me crazy.

For the next 20 years I retained my professional status in the music business while working in retail and vendor representation. Before that I had fallen into the computer thing from day one and learned BASIC computer language while still on the road by hitting the local Radio Shack store in whatever town we were playing at the time. I went through the entire manual that way and in 1977 finally purchased my own computer. I took it on the road everywhere I went and one time it dawned on me that there had to be a way to hook up the computer to the synthesizers I was using. As the MIDI and digital audio technology that we know today wasn't even invented yet, the only person I knew that was doing it was Todd Rungren. He had built his own interface and software technology just to do this. While I certainly didn't have the knowledge to do that, it was then that I knew what I wanted to do for the rest of my life. And as the technology became more ubiquitous, I was determined to study and understand it all. However, I had no idea that it would eventually open up career possibilities I had never dreamed of. I just loved learning the shit! After my retail days at Roger Dodger Music selling music synthesizers and computer music software and hardware for 4 years, I was hired by Coda Music Technology (now MakeMusic) in the beginning days of the Finale music notation program. From there I found a perfect match when I was hired by Opcode Systems just as its award winning Macintosh computer music sequencers "Vision and Studio Vision" were released. Later, I became National Sales Manager of the company and spent nine happy years there.

After Opcode Systems was purchased by Gibson Guitars, I headed to New Jersey to help create a start-up company called "Wave Digital Systems" (a division of Wave Distribution.) This was a company dedicated to making the entire process of computers and music easier for musicians by building custom turn-key systems complete with hardware and software installed and ready to go. A few years later, in 2000, I got a call from Korg USA asking that I take over District Sales Manager duties for the upper Midwest. I gladly accepted and spent the next eight years servicing that region while representing Korg, Marshall Amplification, and Vox Amplification products.

2008 was a bad time for everyone in business and I was laid off from Korg USA in November of that year. I bounced around for a while and was incredibly lucky to find a wine importer here in the Twin Cities, World Wide Cellars, that took a chance on a guy with no experience in that industry. I worked there part-time for three years and enjoyed some of the best wine of my life.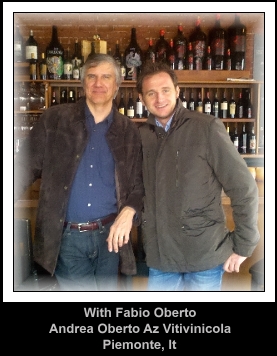 For a long time, wine had been a hobby for me and this was such a cool opportunity. Boy, do these people drink a lot of wine every day! Yes, it was a fun gig.

After three years of constant wine drinking, I went back to playing in bands again. The last three years I played in the band, "Transit Authority", which is a Chicago Tribute band. As long as there are bands that I can play in, I'll probably never totally retire. So, I still reside in the Twin Cities and have a hearty love for all things musical, technical and, of course, wine-related. I am very much enjoying my family life in Minnesota with my wife of 35 years, Joan, and our two Bichons, Benson and Bella. Not bored reading this stuff yet? My philosophy on living is here and my thoughts on wine are here.